Characteristic
Filter Fan
purpose
To lower the temperature inside of the panel with fans
Principle
There are two types of filter fans inhaling and discharging types.
Inhaling type is transferring the ambient cool air into the panel with the air passing through the filter to block the dust.
Discharging type is emitting the hot air inside of the panel to lower the temperature.
On the other hand, micro dust and humidity cannot be blocked with filter fans
special features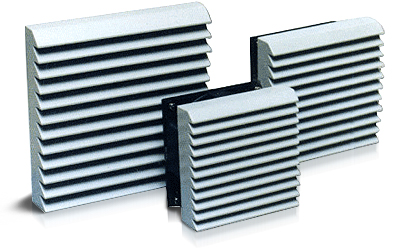 1.

The comb-pattern case is very light and meets with EXT IP34.

2.

Filter is made with the file retardant material.

3.

Filter is reusable after the regular cleaning.

4.

Fan motor has the CE quality and its life expectancy is about 50,000 hrs. (in condition of temp 20℃, humidity 65%)

5.

Its using temperature in the ordinary environment is -10℃~+70℃ and it can be also used in the severe condition such as -40℃~+70℃ .
For re-using the filter
1.

Pressured cleaning

2.

Spray

3.

Clean machine

4.

Air blower
In case of filters contaminated with oil, soak into the warm water with detergent for 5 minutes and dry it.